What are the calories in homemade lasagna
Light lasagna (low in calories and super easy)
This low-calorie classic lasagna tastes phenomenally good: Lots of Bolognese, creamy bechamel, 4 layers of pasta plates and baked with a lot of cheese.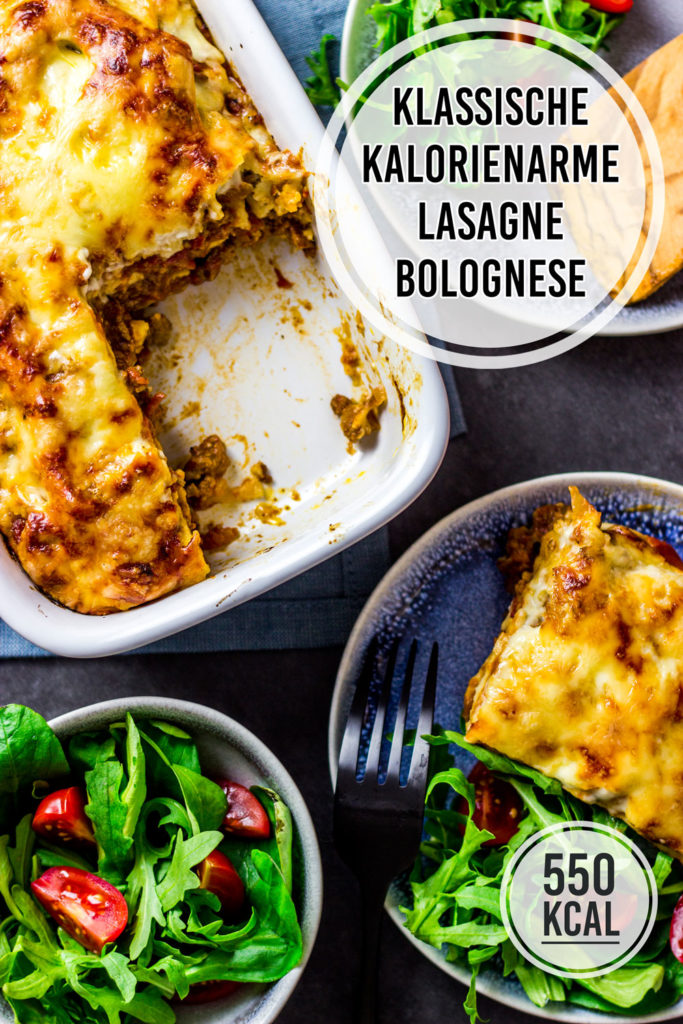 For me, a lasagna must contain the following ingredients: Bolognese with (veggie) mince, bechamel sauce, lasagne sheets and lots of cheese.
Of course you can replace the Bolognese with vegetable ragout, swap the bechamel with cream cheese sauce and use slices of zucchini instead of pasta plates. But for me that is "lasagne-style casserole" and not at all what I imagine a real lasagna to be.
I once took a close look at a recipe for a common lasagna and itemized the ingredients per serving (kcal are commercially rounded):
- 125 g minced meat (40 kcal)
- 5 ml rapeseed oil for frying (290 kcal)
- 1/2 onion (15 kcal)
- 1 clove of garlic (5 kcal)
- some tomato paste (5 kcal)
- 200 g chopped tomatoes (40 kcal)
- 40 ml red wine (30 kcal)
- 125 ml whole milk (80 kcal)
- 7 g butter (50 kcal)
- 10 g flour (40 kcal)
- 75 g lasagne sheets (270 kcal)
- 50 g grated cheese (180 kcal)
- 5 g flakes of butter (40 kcal)
You can come up with such ingredients over 1000 calories per serving - a thousand calories! For a lot of people that is 2/3 of the daily requirement. That doesn't mean you should never eat lasagna like this again. However, it should be an exception during a diet so that you can achieve your goal. With a lasagna like this, your daily deficit is used up - that's the price you pay for this exception.
If you don't want to make an exception because you may have had one in the last few days and still feel like having lasagna, then you should theoretically only be allowed to eat half a piece. Very unsatisfactory - especially if you are used to very large portions and your stomach is stretched as a result. For a low-calorie lasagna that should also taste like lasagna and fill your stomach sufficiently, we need the following goal:
Maintain volume and reduce calories
I don't want to forbid myself anything and eat whatever I feel like while on a diet. In the long term, I would not only like to eat substitute products and protein puddings, but also integrate "normal" foods into my everyday life in a calorie-conscious manner.
That's why I came up with a recipe for an authentic, lower-calorie lasagna.
The challenge, by the way, was the bechamel sauce, because nothing can replace this taste. A sauce based on milk and cornstarch is really not an alternative and with cottage cheese or cream cheese it is a completely different dish. With a little math and trying, I found a good solution so that the bechamel can be added to the lasagna. And there were even more calories left over for a lot of cheese.
Here we go!
ADVERTISING
The Bolognese remains simple
I used beef tartare (made from very lean pieces of meat, available fresh from the butcher) because I like the pure taste - it also convinces with 113 kcal per 100 g and only 3% fat (for comparison: normal ground beef contains 18% fat and has approx. 230 kcal per 100 g). Because we still have the tomato sauce, the low fat content is not a problem.
If you want more volume in the sauce, you can add a finely grated zucchini to the sauce.
There are no herbs in the Bolognese itself, which means that the layers of the lasagna come into their own. This is how you can still taste the bechamel sauce.
Bechamel sauce made easy!
My most important tip is "stir, stir, stir" with a fork, because most whisks are too big for the small amount. Your arm will fall off, but it's worth it.
Simply melt the butter in a small saucepan, gradually stir in the flour and let it swell briefly. Then the milk is added and the stirring continues until the sauce thickens. Lumps aren't a cause for sadness - just rub them through a sieve.
So much cheese!
Do you like a thick layer of cheese on top of the lasagna? Then, in the end, hit everything at once. Alternatively, you can of course also sprinkle part of the grated cheese between the layers - then it will be extra creamy. Hardcore calorie savers choose the light version (unfortunately it doesn't melt that nicely and always tastes a bit "scratchy" to me).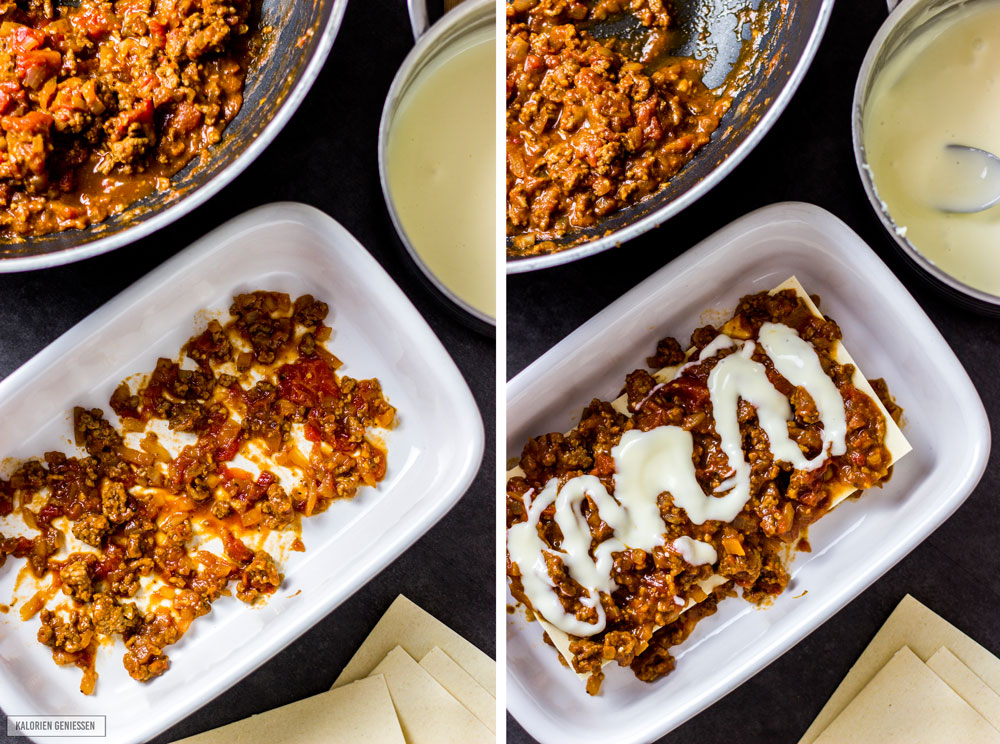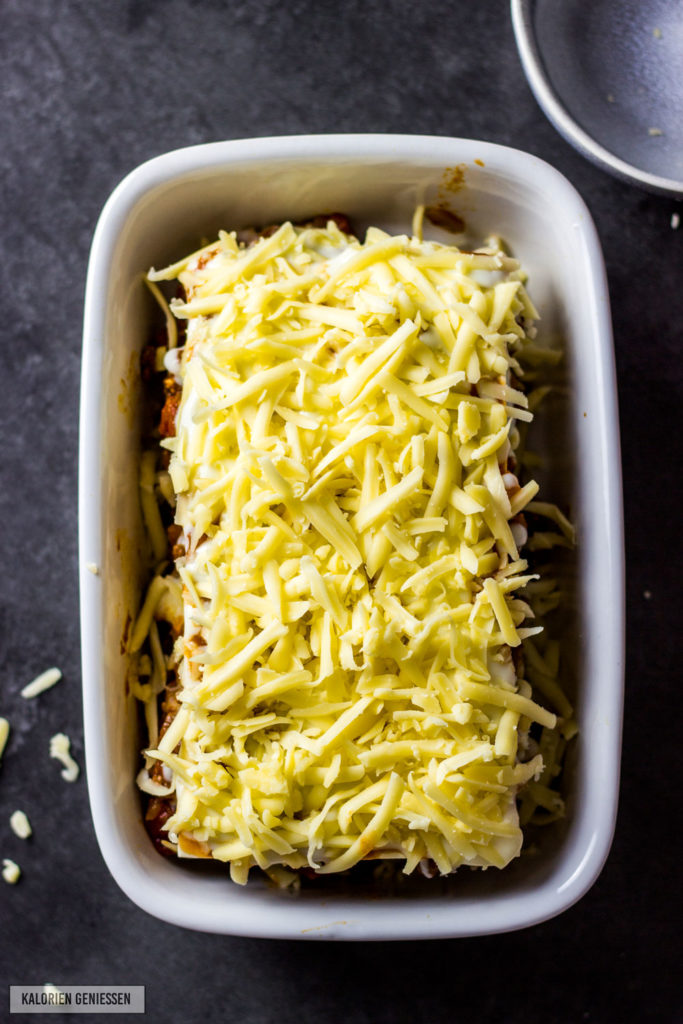 What to go with the lasagna?
A thick green salad with tomatoes and fine onion rings and one wonderful balsamic dressing - this is how the light lasagna becomes a presentable dish for guests. And nobody notices that calories have been saved.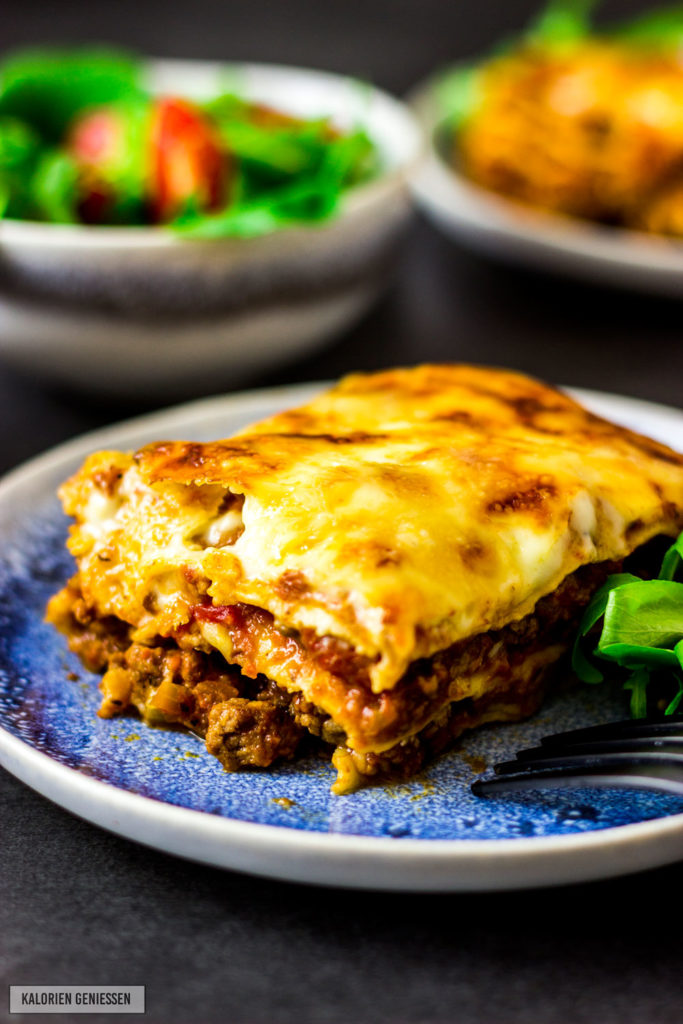 Even more delicious and low-calorie pasta recipes
Filled mussel noodles with ricotta spinach:Vegetarian, lots of garlic and lots of enjoyment!
Tagliatelle with wild salmon: As with the Italian - but without a guilty conscience.
Juicy gnocchi pan with cheese and tomatoes: 1 pan, 1 handful of tomatoes and lots of cheese!
I wish you a lot of fun copying and enjoy the low-calorie lasagna! Feel free to come back here to rate the recipe.
I am also really happy about comments and your photosInstagram - mention me (@kaloriengeniessen) so I can see your photos! 😊
ADVERTISING
Print recipe
Click on the stars to rate the recipe.
Light lasagna (low calorie and simple)
Finally a low-calorie lasagna without compromises: pasta plates, minced meat and bechamel - only 550 calories per serving. This lasagna is perfect for guests - because you can't tell that it's low in calories!Nutritional values ​​per serving: 550 kcal - 45 g carbohydrates - 37 g protein - 24 g fat
ingredients
For the Bolognese:
1 onion
2 cloves of garlic
1 tbsp rapeseed oil
200 g beef tartare (or veggie mince)
400 g finely chopped or pureed tomatoes
1 tbsp balsamic vinegar
1/2 teaspoon of granulated broth
1 teaspoon of sugar
salt and pepper
For the bechamel:
20 g butter
10 grams of flour
110 ml of cold, low-fat milk
Further ingredients:
70 g lasagne sheets (4 pieces)
50 g grated cheese (e.g. medium-aged Gouda cheese)
ADVERTISING
preparation
Bolognese:
Finely chop the onion and press the garlic. Heat a large pan with 1 tablespoon of rapeseed oil. Brown the tartar in it, then add the onion and garlic and sauté.

Add the tomatoes and 1 tbsp balsamic vinegar, season with broth, sugar, salt and pepper and let everything simmer for 30 minutes with the lid closed. Stir in between and season again and season if necessary.
Bechamel:
Heat a small saucepan over moderate heat and let the butter melt. Add the flour and stir in. Let it soak for 1 minute.

Pour in the milk and keep stirring until a thick and creamy sauce is formed. Then put aside.If there are any lumps, you can rub the bechamel sauce through a sieve.
Layers Lasagna:
Preheat the oven to 200 ° C top and bottom heat. Place a spoonful of the Bolognese sauce in a baking dish - then the lower pasta plate will not stick to it later. Place the first pasta plate in the baking dish and cover with 1/3 of the Bolognese. Then drizzle some of the bechamel over it.

Then cover with a pasta plate again and layer as described above until the sauce is used up. Put just a little Bolognese and the rest of the bechamel on the top pasta plate. Then sprinkle with cheese. Baked in the oven for about 30 minutes.
Remarks
This is how it gets even creamier: Scatter some of the grated cheese between the layers.Would you like more volume? Grate a small zucchini and mix it with the minced meat.Garnish: Delicious green salad with tomatoes and fine onion rings and a balsamic dressing.
Nutritional values ​​per serving
Calories: 550kcalCarbohydrates: 45gProtein: 37gFat: 24g
Would you like more recipes that will keep you full for a long time? My cookbook LANGE SATT contains 50 new recipes with 30 g protein per serving - so you can stay full longer and no longer think about food all the time. To the cookbook >>
Click on the stars to rate the recipe:
The recipe first appeared on October 4th, 2019 and has been revised.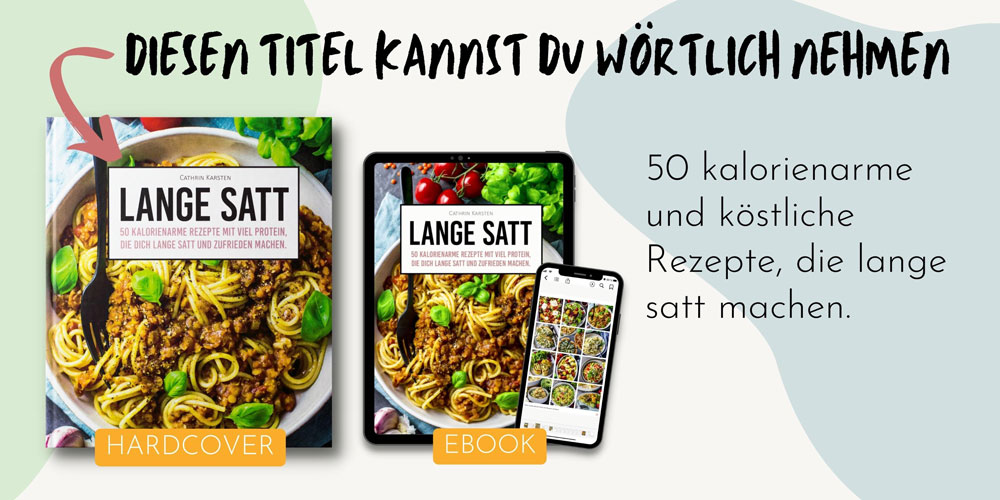 Brand new on the blog:
---
* The links marked with an asterisk (*) are so-called affiliate or advertising links: If you click on such an affiliate link and shop via this link, I will receive a commission from the online shop or provider concerned. For you the price doesn't change.
Learn more: data protection