Where can I present my business site?
How To: Build Free Mini-Websites with Google
Google has recently started offering a simple website builder that even laypeople can use to quickly create their own website. In this part of our "How-To" series, we explain how the "Google My Business Website" service works.
Nowadays it is hardly possible without the Internet. Even so, there are millions of companies around the world that still don't have a website, not even a simple online business card. That can be detrimental to business. Nevertheless, many - especially the self-employed and small companies - shy away from investing time and money in their own homepage.
Google now has a solution to this problem: Google My Business Website. This is the name of the new Google My Business feature, with which you can build your own homepage within a few minutes. The tool is deliberately designed to be simple so that everyone - really everyone - can find their way around and achieve success quickly.
The good thing is: The result is free, so the entrepreneur does not have to pay any money for creating his new homepage or for hosting. At least if he can live with that his new web presence is on .business.site ends - for example muellersmetzgereifrankfurt.business.site. But with a little technical knowledge that can be changed.
How to create a homepage with Google My Business Website, what to watch out for, and how to create your own domain instead of the .business.site-Ending can be used, that explains our "how to".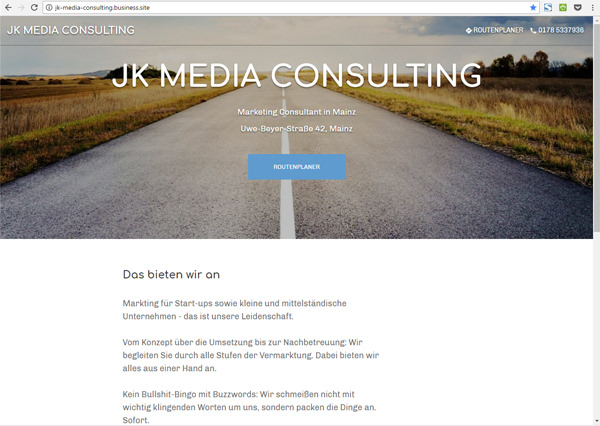 You can go back and forth with the arrows under the heading.