What is performance art for you
Mother of performance: Marina Abramovic is 70
Marina Abramovic has already prepared for her death. As a performance, of course: three marinas, one "real" and two "wrong" ones, are to be buried. In the places where the world's most famous performance artist spent most of her time: Belgrade, Amsterdam and New York. The place where the real body will be buried should remain a secret. Dealing with your own end is essential for her. "With every day you live, you get closer to death," Abramovic said in an interview with curator Carrie Scott. "You have to be prepared for this so that you can die without fear or anger." She learned that from her grandmother, who always prepared clothes for her own funeral, always adapted to the changing fashion of the time - her grandmother was 103.
Marina Abramovic was born in Belgrade, where she studied painting at the State Art School in the 1970s. "I clearly feel that I come from the Balkans. We make a great drama out of everything. Either from personal life events or from the very fundamental drama of human existence." This energy and the associated emotions are extremely intense in Abramovic's art. Their performances provoke, make aggressive, stir up, calm down, move to tears - they hardly leave anyone indifferent.
Do art and artists have to be beautiful? Compulsive combing with metal brushes in "Art must be beautiful" (1975)
Marina Abramovic began her work with extreme physical experiences - a torture for both her and the audience. At the age of 26, she stabbed herself between the fingers of her left hand in one of her first works. She took into account that she would be injured in the process; she changed the knife with every stab in her finger. "As with Russian roulette, it is about courage, recklessness, despair and gloom," says Marina Abramavic in her recently published autobiography "Going Through Walls". "The other side" is important. "When you've got through all of this, the joy is indescribable. That's what I live for," she said of the pain of her art in the interview with curator Scott. Nothing is easier than doing things that you enjoy doing. But that is not the real experience.
Stabbing and suffocation
After the knife stabbing, many more disturbing tasks followed. For "Art must be beautiful" in 1975 she forcibly combed her hair with a metal brush and a metal comb, Abramovic added: "While I am doing this, I repeat 'Art must be beautiful', 'Artist must be beautiful' until I mean Destroyed my hair and face. "
A year earlier, her performance "Rhythym 5" consisted of a burning communist star, in the middle of which she lay down after cutting and burning her hair and nails. But the fire had used up all the oxygen, Abramovic passed out: "The spectators don't react because I'm lying down. When a flame touches my leg and I still don't react, two of the spectators enter the star and carry me out. I will go with them confronted with the limits of my body, the performance is interrupted. "
Performance ends in turmoil
Her direct confrontation with the audience had made her a legend in 1974 with "Rhythm 0". In a gallery she laid out 72 items, including a saw, nails, alcohol, matches, lipstick and even a loaded pistol. With a sign, the then 27-year-old asked the audience to do what they wanted with her for six hours. An intense performance in which some visitors injured the young woman, smeared her and cut her clothes, while others tried to protect her.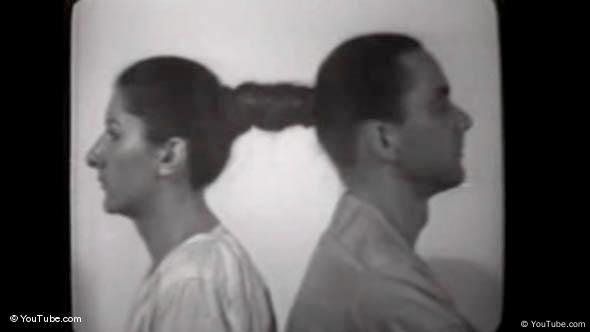 Symbiosis and demarcation: Marina Abramovic with life and art partner Ulay
In 1975 she met the German artist Ulay. In their twelve-year relationship, they explored the limits of their bodies together, "a romantic and radical time," Abramovic said in an interview with DW. Her love was in the foreground, then art. The first performances consisted of bouncing their naked bodies on and off, and told impressive stories of desire and demarcation. In a later installation, the two slapped each other for 20 minutes, it was about the sound that a slap makes, the body is only an instrument here.
For many years they lived like nomads, traveling to the Aborigines and Tibetans. The two eccentric artists eventually split up. Their original performance, in which they wanted to run 2500 kilometers on the Great Wall of China and then get married, finally turned into a separation performance after the long preparation time.
Breakthrough art of sitting still
Anyone who thinks Abramovic has already exceeded all the limits of performance art will soon be surprised again. For example in "The Artist is Present": On the occasion of the major retrospective in the New York Museum of Modern Art, Marina Abramovic took the statement literally: the artist was present. 75 days, 7 hours a day, sitting on a wooden chair that she never left to eat or use the toilet, only possible through a strict diet. Opposite her was an empty chair, which, however, never remained empty during the entire show. Visitors sat across from the icon, looked her in the eye, laughed and cried, including celebrities such as Sharon Stone, Tilda Swinton, Björk and Lady Gaga. Her works today are still intense experiences, although no longer determined by violence, but by asceticism and reconsideration.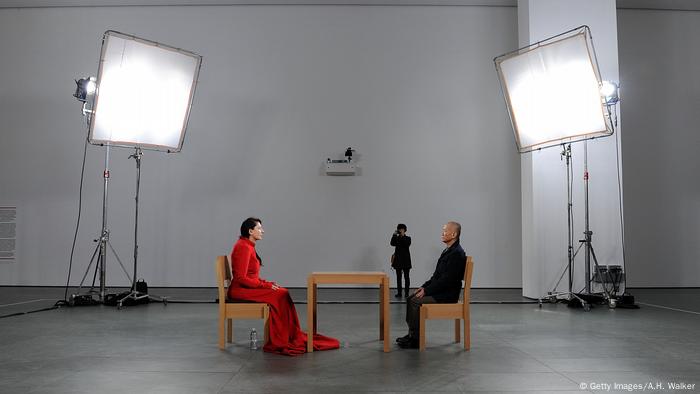 It was seldom so empty in the MoMA retrospective: Marina Abramovic in "The Artist is Present" (2010)
Her "Abramovic Method" is based on this, a hodgepodge of various esoteric and Far Eastern relaxation and meditation exercises. Here she wants to convey the techniques that enable her to get through borderline experiences during the performances. This reduces Abramovic to a society shaman, say her critics. In some cases, their crowdfunding for the "Marina Abramovic Institute" was rated with a sniff, the building designed by Rem Koolhaas has not yet opened.
Why would she want to have three marinas buried, of all places? Each would represent a part of her: courage, spirituality and nonsense. In the past she was always ashamed of one of these parts, today she accepts herself as she is. Therefore, she has no problem with being 70 years old. "You need time to understand yourself. Getting older means becoming wiser," said the performance icon in an interview with DW. "70 is a big number, now the last part of your life begins. So you have to focus on the most important things. And I have decided to be happy."