How do partnerships with OEMs work
OEM partner - an increasingly important part of industrialization within the IT sector
In times of digital change, partnerships between companies are crucial for the future
This blog article deals with the industrialization of the software industry and its standardization and highlights the importance of strategic partnerships.
With a view to private-sector companies, there has recently been increasing growth in terms of partnerships, both between industry-related and between companies outside the industry. [1] The reason for this is that, due to dynamic, technological change, companies increasingly have to focus on their core competencies in order to survive in competition. This creates a large number of partnership variants, starting with value-added resellers (VAR) and pure technology partners to the partnership with the original equipment manufacturer, or OEM for short, which is the topic of this blog article.
By definition, we are talking about the "original equipment manufacturer". Generally speaking, it is a manufacturer of components or products who produces them independently, but does not sell them himself. In the IT and software industry, a company is referred to as an OEM if it purchases products, solutions or components from another manufacturer, possibly modifies them for its own purposes or builds them into its own software products and accordingly expands the OEM's solution to include its expertise.
The automotive industry as a pioneer for OEM partners
The origin of the OEM partnership concept can be traced back a long way to the time of industrialization. Let's think of our favorite pioneer: Henry Ford. With the introduction of his entry-level model - the Ford T model - assembly line production came along. This enabled Ford to drastically reduce the production costs for its automobile through standardization and automation. The car could be sold more cheaply and thus made available to a broad masses. [2] [3]
Today, as then, it is part of the classic value chain for all automobile manufacturers that suppliers are involved who deliver individually produced individual components such as control units, headlights or tires directly to the assembly lines. There is no other way to achieve the high production figures. The components necessary for the production of a vehicle are thus obtained - mostly except for the engine - from specialized external partner companies or via the free market. It's a classic OEM business! [4]
Effects of industrialization on the IT and communications industry
There are clear indications that industrialization is also advancing in the area of ​​software. [5] There is a steady increase in the proportion of standard software within the IT market, by around 2% every year. [6] In particular, the example of common office applications that are only minimally adapted by the user nowadays ("off-the-shelf software") suggests this conclusion.
Like the automotive industry, the information and communication industry is currently experiencing increasing standardization, which goes hand in hand with the specialization of the individual manufacturers. As early as 2008, this development was shown in a scientific study using the example of the manufacturer SAP ("Specialization as a form of industrialization in the software sector - an analysis using the example of SAP's ERP software"). It is assumed that a further increase in the number of (OEM) partnerships can be expected in the future, because the costs for a broad product portfolio will no longer be in proportion to the manufacturing or development costs.
The example of SAP shows that with a specialization of the products and / or services, a standardization of the services offered must be assumed. Standardization means reorganizing the value chain and therefore also considering alternative sales channels. As a result, at a very early stage of growth at SAP, the realization was made to break up the monolithic approach through consulting and implementation. SAP has always had an interest in scaling through partners and has thus created an entire branch of industry. In addition to the outsourcing of services, the idea of ​​sourcing individual product components externally and "only" focusing on core competencies - that is, specializing in one's own domain - came more and more into focus.
As a result, the trend is that most software manufacturers correctly concentrate on solving problems in one or their special domains and are thus successful. This can be, for example, trading in wood, managing apartments, maintaining and keeping track of patient files, managing clients or selecting applicants. The developments in the IT market and the associated figures speak a similar language. Manufacturers in Germany alone generated sales of over 24.4 billion euros in 2018.
Advantages of integrating a DMS into a specialist or branch-related solution from a software manufacturer
What all specialist solutions have in common is that documents are created "internally" or that they enter the customer's organization from "outside". Many document processes arise almost incidentally. For many software manufacturers, however, dealing with documents is often only a marginal issue and is therefore dealt with in a rudimentary way. Understandable if the manufacturer correctly focuses on high specialization and standardization of his solution in the course of industrialization.
Examples of "neglected" document processes include BLOBs in databases, which, due to their size, have a negative impact on performance or, to name another example, the storage of documents on a server drive, which is questionable at least from the point of view of revision security and another benefit a DMS software. [7]
In order to offer your own customers an efficient and safe solution in the area of ​​DMS without developing it yourself, the integration of a DMS is almost necessary as part of a suitable OEM partnership. Depending on requirements, this takes over the acquisition, storage, administration, provision or legally compliant archiving of document masses. This is particularly important for customers when it comes to compliance and on the way to a paperless office.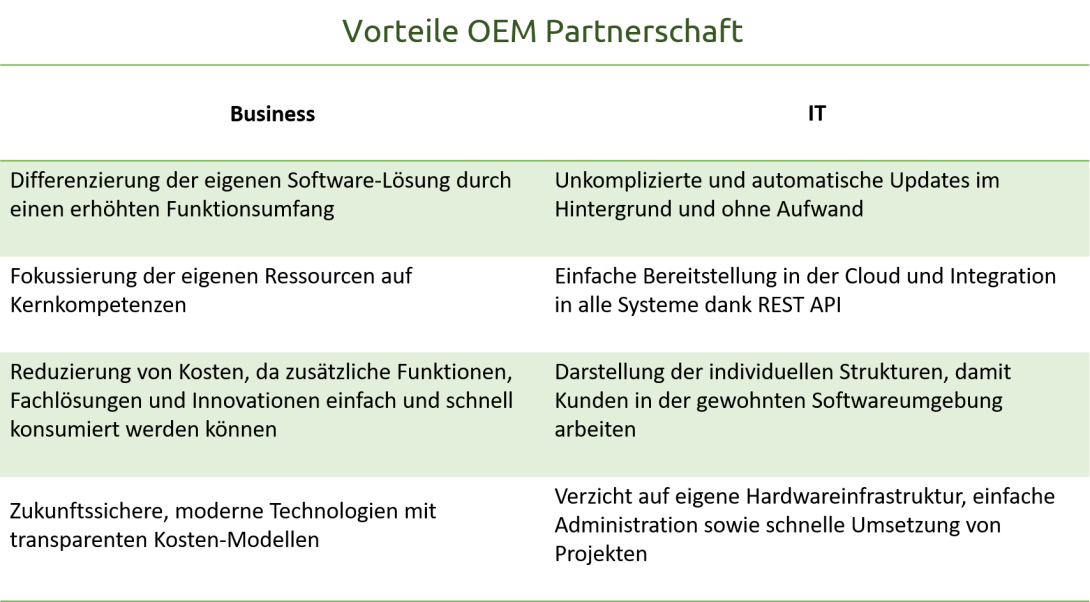 If you find yourself as an ISV in the scenarios presented here and would like to benefit from the advantages of an OEM partner, please contact us directly!
---
swell
[1] Specialization as a form of industrialization in the software industry - an analysis using the example of SAP's ERP software; Page 154
[2] https://de.wikipedia.org/wiki/Ford_Modell_T
[3] https://www.welt.de/motor/article115631033/Wie-Model-T-das-Auto-revolutionierte.html
[4] https://techterms.com/definition/oem
[5] https://www.wim.bwl.uni-muenchen.de/download/epub/2007_manrep_02.pdf
[6] https://luenendonk.de/wp-content/uploads/2013/05/LUE_Liste_u_PI_2013_Standard_Software_f160520131.pdf; https://de.statista.com/statistik/daten/studie/151628/umfrage/umsatz-fuehrender-standard-software-unternehmen-in-deutschland/; https://de.statista.com/statistik/daten/studie/189877/umfrage/markt Volume-im-bereich-informationstechnik-in-deutschland-seit-2007/
[7] https://www.cioatwork.com/articles/4620-EN-what-is-a-blob?locale=de
https://de.statista.com/statistik/daten/studie/151628/umfrage/umsatz-fuehrender-standard-software-unternehmen-in-deutschland/
https://de.statista.com/statistik/daten/studie/189877/umfrage/markt Volume-im-bereich-informationstechnik-in-deutschland-seit-2007/